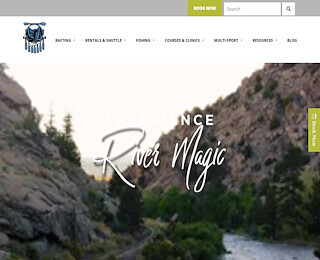 Swiftwater courses help prepare personnel planning to perform rescues mission in moving water. These courses teach how to identify risks, self-rescue, various rescue options, and the decision-making process you need to select the right rescue approach. As a Swiftwater professional, you are tasked with the duty of training and ensuring efficiency in assisting, protecting, and rescuing victims in swift water environments. The benefits of Swiftwater rescue training are a lot more than the alternative, which could be an avoidable and tragic accident.
At Dvorak Expeditions, we offer professional instructions in nearly every river-related activity, a training course on swift water rescue, river rescue courses, technical rope rescue, and a lot more. Here are some of the Swiftwater rescue courses we offer.
Swiftwater Rescue Courses
We offer both basic and advanced Swiftwater rescue courses that require three full days separately. The certification for Swiftwater Rescue Training Courses is valid for three years, at which point you need to re-certify. This re-certification typically takes two full days. Generally, the entire course is taught in the field. This Swiftwater rescue class introduces you to the problems related to water rescue and the procedures you need to follow in sweeping disasters, seasonal flooding, and flash floods situations. Here are what you will learn with the Swiftwater safety institute course:
Incident Size up
Scene Assessment
Bank-based throw rope rescue techniques
Resource Ordering
Scene Management and Site Control
Activation Procedures for Rescue Response
Hazard Recognition and Mitigation Procedures
River Rescue Courses
This course starts out with the basics and works into more technical scenarios and skills. The course starts with an emphasis on identifying the problem and the right rescue approach. You will learn how to analyze the situation the risks involved for both you and the victim and then plot and execute the river rescue. The river rescue course covers the right use of throw bags, swimming techniques, anchors, hitches, knots, wading, mechanical benefit. Then, you can use these skills in situations on the water.
Whitewater swimming
Rescue ropes
Ropes systems
Strong swimmer rescues
Victim stabilization
Shallow water diving and wading
Boat retrieval
Strainer management
Mechanical advantage systems
Professional River Raft Guide Training 
At Dvorak Expeditions, you can expect quality river raft training that will give you the skills you need to work as a professional raft guide. Most of the instruction on this course will be done on the river, teaching you the essential skills required to work as a professional raft guide. From start to finish, this program is designed to get you engaged early and create a learning environment that helps you succeed. Once you complete the course, some of the skills you will be able to acquire include:
Knot tying techniques
River signals
Maneuvering and rigging rafts
River rescue
Equipment maintenance
Emergency procedures
Basic river operations
Water Rescue Training Near Me
Swiftwater Rescue, Wilderness First Aid & Rope Rescue Training institute course are dynamic and are based on scenarios. This allows you to develop the skills necessary to effectively carry out a technical rescue. Contact us today for more details!
Bill Dvorak Kayak & Rafting Expeditions Inc
719 539-6851
17921 US Highway 285
Nathrop CO 81236 US