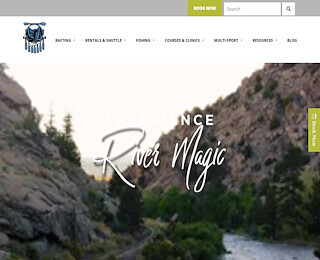 The Arkansas River is designated as Gold Medal Trout Waters. Generally, the catch in the Arkansas rivers is about 10-14 inches; there are still fish of about 17 inches. Once in a while, a trophy-sized trout can be caught in this great river. The Arkansas River offers miles of public access. While bait fishermen and spin casters can be spotted occasionally, fly fishing is the best way to fish in this river. Blue-winged olives and midge hatches are prolific in the spring and fall, while caddis and stoneflies rule the hatch in the summer. If you're an angler and want to fish in this river, here are some of the things you need to know.
Best Places to Fish in the Arkansas River
The prime spot for brown trout stretches from the Salida to Swissvale through the Royal Gorge. The river is swarming with brown trout, and most anglers visit the river when they want to catch a lot of fish. Floating is recommended for canyon fishing, and most people will agree that a float down the river offers the greatest chance of success.
Best Time to Fish the Arkansas River
The amazing thing about fishing in the Arkansas River is that they can catch fish at any given time. Here is a general list of the best time to fish for these fishes:
Arkansas Trout Season: Arkansas has a mild climate which means there are regular hatches throughout the year. Generally, fishing for trout between April and June provides great fishing opportunities. As the river gets warmer in the mid-summer, trout fishing will slow down, with the bigger ones hiding in, the deeper part of the river out of reach of predators and sunlight. While you can still fish for trout in mid-summer, timing is very important. Trout fishing can also get exciting in September and October.
Arkansas Bass Season: Springtime is the best time to fish for bass. Bass season starts at the end of February and early March. When the water temperature starts getting near 60 degrees, the fish will generally move out of the deeper water to gorge on food before the spawning starts. Once the spawning starts in late February, it can extend into May, though this depends on the stream and lake.
Arkansas Panfish and Crappie Season: Panfish are still a top target for many anglers, and they are growing in popularity. Crappies and other sunfish are abundant and provide anglers with a fun break from chasing bass and trout. While fishing for panfish most time is done in ponds and lakes, you can still find them in slower-moving creeks and rivers. It is easier to fish for crappie late in spring and early summer.
Fishing Arkansas River
Dvorak Expeditions offer fishing Arkansas fishing map course, Arkansas river fishing courses and a guide that can help you learn the ins and outs of fishing Arkansas River. For more information about fishing lakes in Arkansas and the guided fishing trips training institute, contact us today.
Bill Dvorak Kayak & Rafting Expeditions Inc
719 539-6851
17921 US Highway 285
Nathrop CO 81236 US